PJP #052 - The Spin Doctor
PIREPS: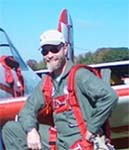 Mike tells us about an FAA training event held recently in Idaho Falls. His special guest was Rich Stowell - the Spin Doctor. The idea was for Rich and Mike to do some spin training for the crowd, but this required an FAA waiver to allow the display to be done over the airport at an altitude where spectators could see what was happening. Mike relates the process and response of working with 2 FSDOs to obtain the aerobatic waiver.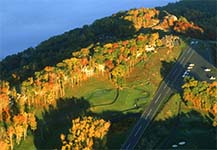 After the demonstration, Mike headed off on a 3300 mile cross country trip in his Cessna 180. The trip included several segments in and out of IMC. He also had a great visit at Mountainair, a private resort airpark, then on to Sporty's in Clermont County, OH.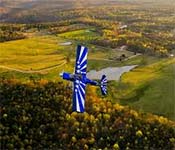 Stu tells us about his company becoming an American Champion dealer, and ordering their first Xtreme Decathlon. He also recites his ambitious training goals for the year. He reported success on passing the ATP written test. Next up is the multi-engine commercial checkride, then multi-engine instructor (MEI), and finally Airline Transport Pilot (ATP).

To accomplish all these multi-engine goals, Stu and his business partner purchased a Cessna 310Q. Stew was kind enough to volunteer to help fly it anytime.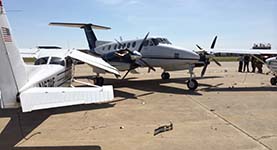 Stu also relates a sad incident where a mechanic taxing a King Air experienced a runaway engine that turned him into a pair of parked Cessna 172s. One Cessna wing was essentially chewed off, and another "trimmed" a few feet. Luckily no one was injured, but it was an expensive afternoon for a King Air's insurance company.

In addition to groveling for multi-engine time, Stew completed his Flight Instructor Refresher Clinic (FIRC) at American Flyers. He was also guest lecturer on human factors in the cockpit for the McKinney Aviation Academy program. He's also starting to study for his ATP written test, and has been challenged to beat Stu's score of 94.
FEATURED SITE: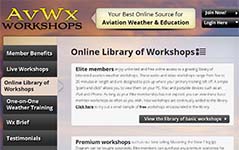 AvWxWorkshops.com
Stew describes this subscription based web site that has an extensive series of tutorials and webinars on a variety of weather topics. For those that have a strong interest in weather phenomenon, or for the IFR pilot that wants to be really prepared, this is a good way to get the applied knowledge of weather systems and patterns.
PRODUCT REVIEW: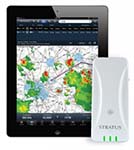 Stratus II ADS/B Receiver
This ADHRS, ADS/B and GPS receiver provides multiple ways to connect to an iPad, as well as integration with ForeFlight, the most popular electronic flight bag for general aviation pilots. Mike notes that the NexRad radar available via ADS/B is not as high resolution as composite radar available in ForeFlight from WiFi or cellular data sources. However, it's all available at altitude when cell service is long forgtten. Mike also noted the ADHRS response rate was a bit sluggish compared to panel mounted systems, but since it's designed to be a standby backup, it's more than adequate in those situations.
LINKS:
Podcast: Play in new window | Download
1:14:50
68.8 mb

Show notes: http://www.pilotsjourneypodcast.com/PJP052

(c) 2014, Fully Stewed Productions
All rights reserved